Services to Trade and Business customers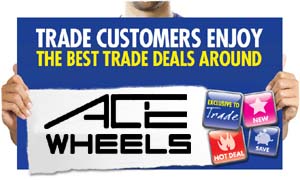 Ace Wheels Ltd is a professional and respected local company in the motor trade and provide a fast, reliable and efficient service. We are based in Bognor Regis, West Sussex and cover the surrounding area of West Sussex and East Hampshire.
You can see the area we provide a mobile service to on our map. Ace Wheels are happy to provide references from other trade businesses we work with and would be delighted to discuss your business requirements further.
We are always competitive and provide top discounts for volume work. We would also be delighted to see if we can beat your current cost prices. So if you are looking for a fast, professional and reliable local company, for all your alloy wheel repairs, please get in touch with is and we can discuss your requirements in more detail.
Car Dealerships

Company Cars

Local Garages

Tyre Garages

Company Fleets
If your business uses company vehicles, Ace Wheels can save you money. With the average lease company charging up to £100 per damaged alloy wheel on returned vehicles at the end of their contract, your business could save considerable money by having smart repairs made to the alloy wheels prior to vehicles being returned to lease companies. Our repair prices to fully restore a wheel to a new condition are a lot lower than the penalty fee's the lease company will charge for vehicles returned with damaged wheels.